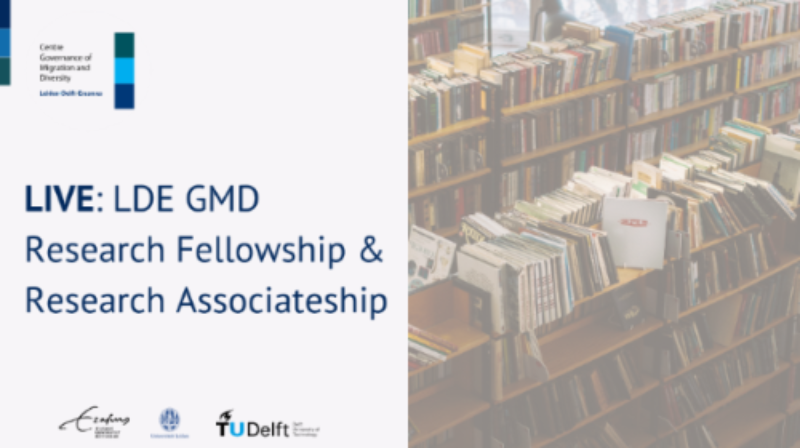 APPLY: LDE GMD Research Fellowship & Research Associateship
After a few months of creation, the LDE GMD Centre is pleased to announce the launching of the LDE GMD Research Fellowship and LDE GMD Research Associateship.
Dr. Ingrid Mulder joins LDE GMD Centre's Academic Executive Board (AEB)
Dr. Ingrid Mulder (

TU Delft

) has now joined the LDE GMD centre's AEB and will represent the

Faculty of Industrial Design Engineering

.
LDE Talks: Den Haag Zuidwest
October's edition of the LDE Talks will feature the Den Haag Zuid-West initiative. The presentation will be delivered by the new DHZW Scriptiewerkplaats Coordinator, Mandy Koenraads.
Education


LDE Master Governance of Migration and Diversity
GMD Master welcomes 2021/2022 cohort!
On the

3rd of September

, the GMD Master programme welcomed the new Master cohort. With over 50 students joining the programme this year, the Open Day event was a great opportunity for the students to meet each other in person.
Kind regards,

The LDE Centre GMD team

prof.dr. Marlou Schrover

(UL)

dr. Kimberly Seibel

(Research Officer TU/D)


dr. Reinout Kleinhans

(TU/D)

dr. Simona Vezzoli

(Research Officer UL)


prof.dr. Jorrit Rijpma

(UL)

Vanessa Ntinu MSc

(Jr. Executive Manager EUR)


dr. Nanneke Winters

(ISS/EUR)

prof.dr. Peter Scholten

(Scientific Director EUR)


prof.dr. Olaf van Vliet

(UL)

dr. Mark van Ostaijen

(Managing Director EUR)


prof.dr. Susanne Janssen (

EUR

) dr. Maria Schiller (GMD Master Coordinator EUR)
dr. Ingrid Mulder

(TU/D)
Sign up for our newsletter
Do you want to receive this mailing? Subscribe here!