We are sending you this newsletter because of your connection to ARCNL. The newsletter is intended for policy officers, collaborators and (former) employees. The newsletter will be send twice a year. We hope you like to receive our newsletter, if not you can easily unsubscribe using the link in the footer.
Booming ARCNL
ARCNL is booming. In spite of all the limitations that the Corona pandemic forced upon us, the institute is thriving. With seven PhD theses defended successfully this year and significant publication output, we demonstrate our resilience and creativity. In September, we abandoned the restrictions on the number of people that we accommodate daily in the building. Being back on location with a larger community, we're thoroughly enjoying each other's company and the increased interaction, beyond the two-dimensional world of ZOOM and TEAMS. It gives us great pleasure to present you with a brief update on what's new at ARCNL and hope that it will invite you to click on the "read more" buttons, in order to find out what's behind the enthusiastic messages in this newsletter.

Joost Frenken
Start of two new tenure track group leaders
On September 1st, ARCNL welcomed two new tenure track group leaders: Emilia Olsson and John Sheil. Both of them have been appointed at an ARCNL partner university, respectively at the University of Amsterdam and Vrije Universiteit Amsterdam.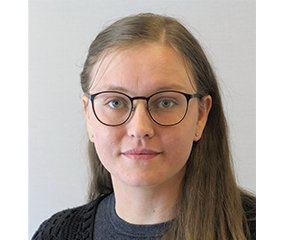 Emilia Olsson
Emilia Olsson has started the group Materials Theory and Modeling, and focuses on atomic-scale modeling of solid-state materials and materials discovery. For novel lithography technologies, materials are pushed to extreme limits, which requires atomic level understanding in order to predict, comprehend, and control their properties.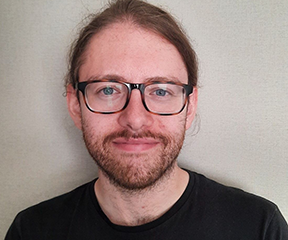 John Sheil
John Sheil's group, Plasma Theory and Modeling, focuses on research of the fundamental operating principles of laser-driven, extreme ultraviolet (EUV) light-emitting plasmas, using a combination of analytical modeling and numerical simulations.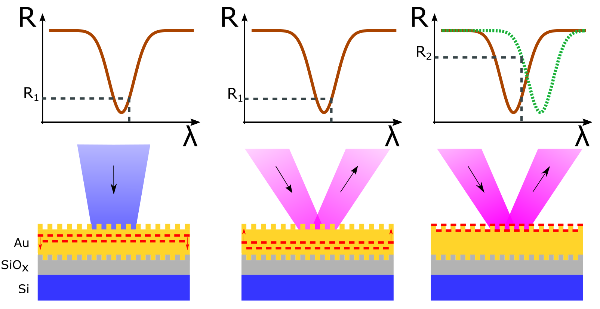 Scientific highlight
To extract information from very subtle changes in a signal, researchers either have to measure over a long period, or enhance their signal. Researchers of the Light Matter Interaction group managed to do the latter for reflection measurements on samples similar to those used in nanolithography. By inducing a so-called plasmonic resonance, they amplify the changes in reflection that are caused by laser-induced acoustic waves in their samples. Such reflection measurements can be used to detect nanostructures buried under layers of opaque material.

Seven new ARCNL doctors
Randy Meijer, 'Tailored Laser-Droplet Interaction for Target Formation in Extreme Ultraviolet Sources', Vrije Universiteit Amsterdam, October 6th
Christian Dieleman, 'Patterning Colloidal Nanocrystals with Light and Electrons', University of Amsterdam, June 30th
Christina Sfiligoj, 'Towards stable nanolayers for EUV optics', University of Amsterdam, June 30th
Menqi Du, 'Computational Depth-resolved Imaging and Metrology', Vrije Universiteit Amsterdam, June 9th
Olivier Lugier, 'Surface-mounted metal-organic frameworks for extreme ultraviolet lithography', University of Amsterdam, June 3rd
Vanessa Verrina, 'Laser-induced ultrasound for the detection of buried micro- and nano-structures', University of Amsterdam, April 6th
Ruben Schupp, 'Spectral characterization of solid-state laser-driven plasma sources of EUV light', Vrije Universiteit Amsterdam, March 17th
New lab equipment
Two groups have recently developed new equipment for their labs. The Contact Dynamics group installed a 'presliding wear tool', developed in collaboration with Philips Innovation Services, ASML and AMOLF. The EUV Plasma Processes group constructed a second tin droplet-generator setup, together with the AMOLF workshops.
NWO Rubicon grant for Igor Milov
On October 4th Igor Milov received a Rubicon Grant from the Dutch Research Council (NWO). With this grant Milov will investigate phase transitions in nanoparticles and thin films induced by ultrafast lasers. Milov will do this research both at the Deutsches Elektronen-Synchrotron DESY, Hamburg, Germany, and at ARCNL in Amsterdam
ARCNL kicks off with symposium on scientific integrity
Scientific integrity concerns everybody in science. Because it is such an important topic for so many at ARCNL, we decided to take the lead and be one of the first NWO-I institutes to organize a scientific integrity symposium.
NEVAC symposium
On May 18th ARCNL hosted the annual symposium of the Netherlands Vacuum Society (NEVAC). This society s
timulates the
exchange of knowledge in the areas of vacuum technology and vacuum-enabled scientific research.
During the online symposium speakers presented exciting scientific findings in research involving vacuum conditions. Two bullet presentations were organized as an alternative for the traditional poster session. In addition, ARCNL offered the participants an online tour through the labs, in which vacuum plays a role.
Open Day 2021
On October 2nd ARCNL participated in the Amsterdam Science Park Open Day, welcoming the general public in the labs and in the main lecture room on campus.
Highlighted ARCNL papers
Recently four ARCNL papers were highlighted by the editors of the journals. Two publications of the Nanophotochemistry group were selected as a 2021 HOT PCCP article. And two publications of the Light-Matter Interaction group were highlighted, one in Optics Express as Editor's Pick and one in Applied Optics as OSA Spotlight.
Source Workshop


23-28 October
The Source workshop will be held online and is jointly organized by EUV Litho, Inc. and ARCNL
LEELIS2021


17-19 november
Online workshop on Low-energy electrons: Nanolithography, Imaging, and Soft Matter (LEELIS2021). Registration is open now.
Science Park 106
1098 XG Amsterdam
The Netherlands

ARCNL is a public-private partnership between NWO, the University of Amsterdam, the Vrije Universiteit Amsterdam and semiconductor equipment manufacturer ASML, and managed by the Netherlands Foundation of Scientific Research Institutes (NWO-I). ARCNL's mission is to focus on fundamental physics and chemistry in the context of technologies for (nano)lithography, primarily for the semiconductor industry.