If you can't view this newsletter of Leiden 2022, click here for the online version.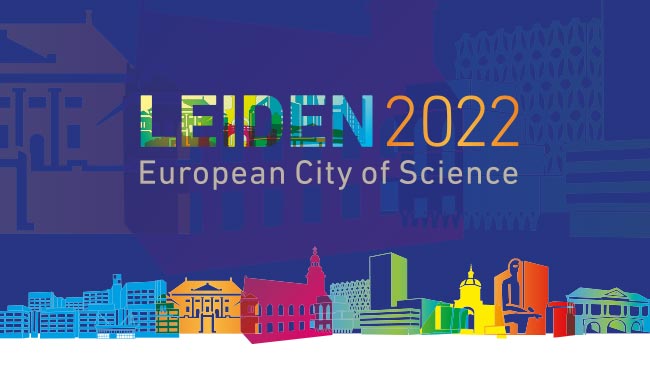 Leiden will be European City of Science 2022. Here is our latest news about the run-up to this incredible year full of science, knowledge, arts, and expertise. This month we share exciting news about the ArtScienceWeek, we present our new stakeholder website, and introduce a new team member.
SDG Festival 2030


From August 26 to September 26, Festival 2030 will take place in Leiden. Festival 2030 is not just any festival, it is a collection of initiatives, people, and activities that contribute to achieving the Sustainable Development Goals (SDGs). These goals focus on sustainability, gender equality, ending poverty and so on. Stichting 2030 believes that Leiden has everything it takes to accomplish these goals and meet the challenges of our future. In collaboration with Leiden2022, Stichting 2030 will put the spotlight of Leiden on the SDGs!

Want to know more about Stichting 2030 and other activities in Leiden during the 2030 Festival? Click here.
ArtScienceWeek
The ArtScienceWeek is an interdisciplinary week that combines art and science to help reshape the cultural environment of the 21st century towards a multidimensional form of individual and social creativity. The week seeks to inform, educate, mobilise, catalyse, and maximise the best ideas and opportunities for individual empowerment by connecting the public to leading scientific and artistic innovators. At the same time, it seeks to foster an open dialog between the public, researchers and artists on the future of art and science and how they impact our world.

Explore and celebrate the intertwining of science and art through a program of thought-provoking conversations, inspiring theatrical and cinematic experiences, interactive workshops and engaging demonstrations, including the Night of Discoveries and the Brave New World Conference, and watch as the city of Leiden around you is transformed into a world of discovery.

For more information click here
Leiden2022's new stakeholderwebsite


We are live! As the launch of our public campaign is approaching (scheduled for 10 November), we want to inform our stakeholders and new partners as best as possible and keep them up to date on all the progress we are making. All summer long we have been working on a new platform to do so. In collaboration with Est Digital, we have created a temporary stakeholder website.

On this website you can find all our latest news, information, and updates about the European City of Science year and read how to become partner for a day.

Click here to go to our new website and let us know what you think!
EST Digital online partner of Leiden2022
Est Digital designs and develops websites for Leiden2022. In the run-up to the public launch, clear, neutral and online communication was necessary to keep the stakeholders up to date. So, a temporary website was quickly created.
At the same time, Est Digital works on a curiosity-enhancing and titillating platform that will inform the public and highlight all events during the City of Science year. On the public website that will launch on 10 November, many visitors will find interesting, exciting, surprising and fascinating news about the programme.

"Every day we stand on the verge of a new world. Science and technology are changing the very foundations of our lives and our work. Yesterday is history and today starts tomorrow." says Est Digital project manager Noël Hoek. "For us as a creative-technical company it is an honor to be albe to contribute to such a relevant project as Leiden2022."
Eva van Ekdom – Communication Coordinator
We are thrilled to announce that Eva will be joning us as Communication Coordinator. As from September, Eva will be leading the editorial team, with a focus on executing the communication strategy as well as coordinating the daily radio program 'Radio Weetlust' and the different media campaigns.

With many years of experience in the communication and marketing in the media industry (RTL), Eva decided it was time for a new challenge. She is very excited to start this job in the city where she was born and raised. With her enthusiasm, target-driven attitude and creative mindset she is committed to connecting people through activities and to put Leiden in the spotlights, both local and international.

Eva is 28 years old and lives in The Hague. With a passion for organizing activities and connecting people, Eva is mostly surrounded by friends and family. In addition, you will often find her cruising through the dunes on a race bike or hiking at the coastal area.
Danielle Vreeburg - Managing Director & Fundraiser
Last April we introduced Danielle Vreeburg as our Coordinator Contemplate. In the last couple of months Danielle has demonstrated her talent in the organisation of the ESOF congress.

Though Danielle enjoyed this job, there is always room for change in our team and Leiden2022 stimulates personal growth.



In August, Danielle succeeded Annemieke Biesheuvel as Managing Director and Fundraiser. She is very excited to perform this new role and we are looking forward to continuing working with her.

We are still looking for a new colleague to join our team as the new Congress Manager ESOF. Interested? See the below for more information.
Vacancies
In the beginning of August, we published a vacancy newsletter special with all our current vacancies. We are still looking for:




Multimedia Editor – click here for the vacancy
Congress Manager ESOF – click here for the vacancy
Projectmedewerker Kennis door de Wijken – click here for the vacancy

Are you still studying and interested in doing your internship at Leiden2022? Or do you want to participate in Leiden2022 next to your study? Leiden2022 is always looking for participants, volunteers and interns. Click here to see our current internships or mail to info@leiden2022.nl
EL CID
Every year, new students come to Leiden. The EL CID week is the official introductory programme of Leiden University of Applied Sciences and Leiden University. In this week, first-year students are offered a multi-faceted programme in which they get to know the city, the students, and the student life.

During the 'City of Discoveries' event, the students were introduced to the scientific side of the city and the cultural highlights that Leiden has to offer. As the students are starting their academic career during the European City of Science year, we gave them a small introduction to show what that means for them. Not only will they see Leiden change into the true City of Science that she is, but they can also participate in numerous activities, as participants or as volunteers.
About us
The city of Leiden will be European City of Science 2022, offering a 365-day programme for everyone with a curious mind. Together with numerous partners, we aim to develop a challenging programme that connects science with society. Anyone can take part, from leading international scientists to curious kids.



We want to raise the profile of science, knowledge, arts and expertise through local action with an international appeal on a national stage. At the base of our organization are our founding partners: LUMC, Leiden University, Municipality of Leiden and the University of Applied Sciences Leiden.

Want to join us or share your ideas? Please feel free to contact Lucien Geelhoed (intendant) at l.geelhoed@leiden2022.nl or Meta Knol (director) at m.knol@leiden2022.nl


Subscribe here to our newsletter