If you can't view this newsletter of Leiden 2022, click here for the online version.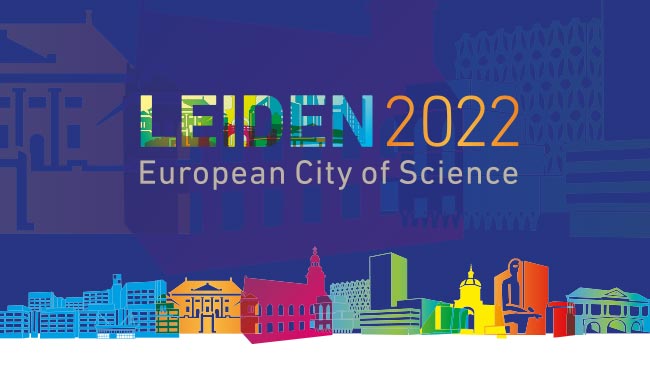 Leiden will be European City of Science 2022. Here is our latest news in the run-up to this incredible year full of science, knowledge, arts, and expertise. This month, we proudly share a brand-new partnership with New European Bauhaus, Naturalis' role in 2022, internships at the University of Applied Sciences, and we make a last call for our 365-day programme!
Virtual 365 calendar


We are almost there! After nearly a year of scouring city, county and country, the 365 topics for the project 'Knowledge through the Neighbourhoods' are almost completely primed. This is a great moment to share our virtual calendar for the year 2022. We invite you to take a look, but please note that the project is still in development. The programme has not yet been finalised.

'Knowledge through the Neighbourhoods' is characterised by an ambitious programme: every day for 365 days, one of the 101 neighbourhoods in Leiden and its surrounding region hosts a compelling topic of the day. The topic of the day is always the starting point for organising participatory activities in the respective neighbourhood. The chosen subjects have come to us in countless different ways, for example, during the many discussions with organisations: from student associations to neighbourhood clubs and from academic circles to local initiators.



From peas to privacy, from the moonwalk to blood moon, from Easter Island to the islets of Langerhans... Anyone who wants to propose a topic can still do so. There are some empty days that yearn for a striking subject and for people who want to actively contribute to it. Can you fill in the blank? Please contact intendant Lucien Geelhoed:

l.geelhoed@leiden2022.nl
New European Bauhaus partner of Leiden2022


We are delighted to announce that Leiden European City of Science 2022 has been selected as one of the first 139 partners of the New European Bauhaus. With this programme, the European Commission is building an interdisciplinary movement for a sustainable, inclusive and beautiful Europe. The central question of this initiative is how we shape the future.

New European Bauhaus is an important step forward for the European Green Deal, with which the Von der Leyen commission aims to make continental Europe climate-neutral by 2050. New European Bauhaus challenges everyone to shape the living environment of the future in direct interaction with science, the creative sector and society: sustainable, inclusive and aesthetic.

Director Meta Knol says, "This partnership is a seamless fit with Leiden2022's ambition to build bridges between science, culture and society. We are delighted that we can now link the future-oriented part of the Leiden2022 programme to the New European Bauhaus."
For more information contact Roosmarijn van de Velde: r.vandevelde@leiden2022.nl
Naturalis in 2022
We congratulate the Naturalis Biodiversity Center for winning The European Museum of the Year Award! Naturalis, based in Leiden, is both the national museum of natural history and a leading biodiversity research institute. We are proud to partner up with them in the run-up towards 2022.
Naturalis' role in the City of Science 2022 will be extensive: their researchers will give lectures and the museum's meeting rooms will host the many congresses and conventions that will come to Leiden.
People from all over the world will visit the museum and what is more: the Naturalis team also loves to go outside! They will play a key role in our joint effort to bring science closer to the people and encourage them to discover the beauty of biodiversity that is all around us.
Internship Explosion at Leiden2022
These days, the Leiden2022 team is swamped with students from Leiden University of Applied Sciences: no less than 17 of them have recently started their internship at our organisation. The interns are of great help in tying up the loose ends of our programme in order to get the job done.

As a result of the Covid pandemic, internships are hard to come by these days. The collaboration between Leiden University of Applied Sciences and Leiden2022 provided an excellent solution to help the students out: by offering these internships, a large group of students can gain valuable experience in a unique work environment. At the same time, the students bring a lot of enthusiasm and new ideas to Leiden2022. This makes for a perfect win-win situation.
Fun Facts


Did you know that during our 365-day programme, each day will feature a different topic? A sneak peek into next year: 28 May 2022 will be all about craftsmanship. With a year revolving around science, knowledge, art and know-how, having a day about crafts and skills is a no-brainer.
For more inspiration: see Playbook II
About us
The city of Leiden will be European City of Science 2022, offering a 365-day programme for everyone with a curious mind. Together with numerous partners, we aim to develop a challenging programme that connects science with society. Anyone can take part, from leading international scientists to curious kids.

We want to raise the profile of science, knowledge, arts, and expertise through local action with an international appeal on a national stage. At the base of our organization are our founding partners: LUMC, Leiden University, Municipality of Leiden, and the University of Applied Sciences Leiden.

Want to join us or share your ideas? Please feel free to contact Lucien Geelhoed (intendant) at l.geelhoed@leiden2022.nl or Meta Knol (director) at m.knol@leiden2022.nl.

Subscribe to our newsletter here.